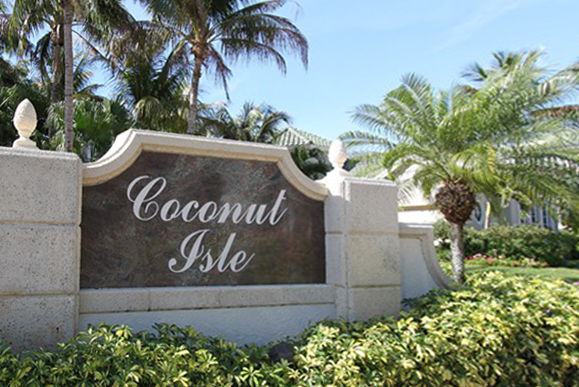 View All Coconut Isle Listings
Amenities:

Marina

Private Beach

Nature Trails

Fitness Facility
Situated in Bonita Springs, FL. alongside the famous Bay Island golf course in the exclusive Bonita Bay community, Coconut Isle is the perfect place to call home. When you enter the gate of this select community, you will be greeted with tropical ambiance where you will find a cobblestone street, a professionally landscaped courtyard and Mediterranean-style villas.
Coconut Isle is made up of 16 luxury single family residences built between 1998 and 2001. Each home is between 2,915 to just over 5,000 square feet built in both the traditional style and "courtyard" style. These homes feature a spacious living area typically with high ceilings, cove moldings and other unique custom interior finishes. All residences include a private pool with integrated spa and private cabana for yourself or guests.
Located on one cul-de-sac street aptly named Brick Lane, here at Coconut Isle you never have a bad view. Each home was specifically designed and built to give you an unobstructed view of the Bay Island golf course and one of the two surrounding lakes. You will enjoy the quiet and tranquility of living far from the bustling city and busy traffic yet you will never have to worry about finding something to do.
You are sure to find some of the best dining and shopping close to home. Located within minutes of the villas is The Promenade at Bonita Bay. This open-air shopping center is home to some of the finest retail stores and boutiques in the area. Also within the Promenade and around Bonita Bay are many world renowned restaurants to satiate any appetite.
Coconut Isles Amenities
Since the Homeowner's Association is responsible for exterior maintenance such as landscaping, pools, and outdoor painting, the Coconut Isle resident has plenty of time to enjoy all of Bonita Bay's recreational activities. Residents and guests have access to a private beach, numerous nature parks, fitness facility and golf courses. Residents also have a membership option to the exclusive member-owned Bonita Bay Country Club.
Spend the day outdoors with the family. Within Bonita Bay and conveniently located nearby are Estero Bay Park and Spring Creek Park. Each of these parks offers residents nature trails, miles of bike paths, picnic areas, a children's playground as well as gardens and historical sites. While exploring these parks, expect to see much of the wildlife unique to Florida such as manatees, exotic water fowl, reptiles and native plants.
Also available to all residents is Bonita Bay Marina. On the Imperial River south of Estero Bay this full service marina has wet slips and dry boat storage for up to 400 boats, as well as on-site fueling and mechanical services. Additionally, the marina has direct gulf access by way of the Imperial River. Accessible by land or boat, enjoy a relaxing dinner at Bonita Bay Marina's private resident-member waterfront restaurant Backwater Jack's.
Located in Bonita Springs, FL, the villas of Coconut Isle in the award-winning community of Bonita Bay is impressive to say the least. With its spectacular views, tranquil setting, and exclusive membership amenities, it offers luxury lifestyle the way it is meant to be. There really is no better living offered anywhere else.