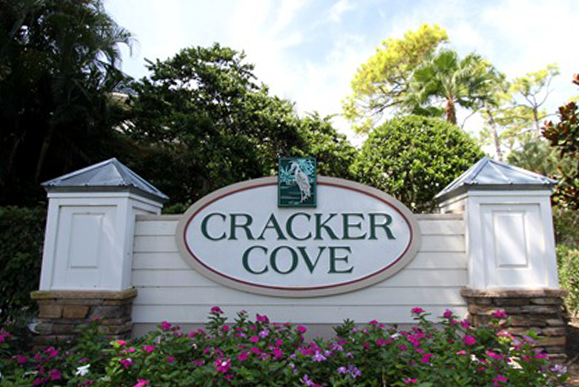 View All Cracker Cove Listings
Amenities:

Golf Club

Riverwalk Park

Nature Trails

Low Maintenace
Cracker Cove is a beautiful subdivision found in a larger collection of homes in the community Bonita Bay. Bonita Bay is a suburb of Bonita Springs, Florida. Bristol Springs maintains a population of nearly 44,000 people, and it is home to numerous points of interest and recreation. There are many reasons why you should consider this subdivision as the perfect location for your new home in Bonita Springs. There are homes located in this charming community for purchase or for an eleven month lease.
The homes in Cracker Cove are modeled after Florida homes from the early 1900s. The homes have wood or wood-style siding. They also have ornate moldings located outside of the home with copulas and gables. Tin roofs add to the charm of this community. The homes are unique in that they are designed on slits for the protection needed in Florida's wet climate. Garages exist underneath all of the homes to store vehicles and belongings. Some residents have modified these garages into workshops or recreational areas. It is also possible to install elevators in the garages of several of the homes. The smaller homes consist of an arrangement of two bedrooms and two bathrooms. Larger homes contain a layout consisting of four bedrooms, three bathrooms, and one den. All of the homes were built between the years 1988 to 1996. Homes in this small community vary in size. They are as quaint as 1,500 square feet or as large as 2,800 square feet.
There are a total of thirty-eight homes in the subdivision. All of the homes are located a short walking distance from a community pool. Bonita Bay has many enjoyable activities for residents, including the Bonita Bay Golf and Country Club. The launch area for Bonita Bay is also closely located to the community. Riverwalk Park is also located within walking distance of the homes. Riverwalk Park consists of a beautiful trail along the Imperial River. Twelve fitness stations dot the trail to provide a consistent exercise routine for residents. Truly, you will be able to find adequate places for recreation and fitness through living in this fine community.
Cracker Cove maintains a Home Owner's Association for the benefit of the residents. There are quarterly dues for the Home Owner's Association, in addition to a yearly master due. These funds help maintain the irrigation water, lawn maintenance, land maintenance, business issues, recreation areas, and security for the community. The Home Owner's Association is not overly strict. You will be delighted to discover the existing residents of Cracker Cove have painted their homes in a variety of fun colors. Large oak trees and lush foliage provide wonderful charm for this fun and easygoing neighborhood.
The two roads in Cracker Cove are entitled Cracker Way and Survey Circle. You will not need to worry about any new editions on the roads of this subdivision, as all of the available lots are filled.
Consider purchasing or leasing a home in this enjoyable subdivision today. An agent will be happy to answer any questions you may have. They will also schedule an appointment to visit one of the homes available for sale or lease.